Plan relaxation into your vacation... to really take a vacation!
We often forget to take time out from our daily routines, to plan some downtime and just relax or to even pamper ourselves a bit. So we plan vacations for that purpose, right? If you're in the midst of planning your vacation to Italy, you've probably already seen there is a lot to see and do! Given the many cultural and historical offerings you'll find, remember that the whole package of coming to Italy includes taking the time to slow down enough to enjoy the views, savor the delicious food and wines and to take some time off to pamper yourself and relax, all in between visits to museums and to the main sights.
Where to enjoy some down time and to do this pampering? Our suggestion is to include at least 4 hours at Asmana Wellness World just outside of Florence! While we hope you return home with great memories of your time in Tuscany, we also hope you return to your daily route well rested. A few hours spent at a spa center can do wonders!
Located on the outskirts of Florence, we have now enjoyed the services offered at Asmana on various occasions. Even my husband, Stefano, who generally balks at spending time doing this "sort of thing", loves Asmana! The relaxed state he is in after our afternoons there is a testament to the beneficial effect Asmana has on everyone who visits, even those who normally don't go anywhere near a spa ;-). A day at Asmana is perfect for couples, and can be enjoyed year round, including the summer!
Whirlpools + waterfalls + saunas + massages = complete relaxation!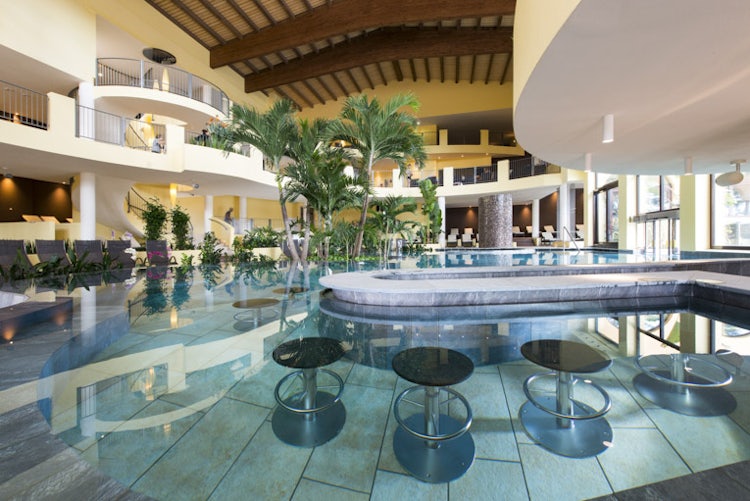 As soon as you walk in, you'll be surrounded by a tropical setting of palm trees and other green vegetation, which along with the sound of water, gently but immediately starts soothing your soul. Consider yourself transported away from the world and fully surrounded and supported by a place where their main goal is to bring peace to all of your senses. A place where you can find many ways to care for your body and dedicate 100% of your time to just yourself. This is what we, and you, will first experience when you step out of the locker area at Asmana and into their wellness world.
The spa/wellness center brings together East and West, with a splendid setting and multi-sensory experiences based around water, heat, quiet and tranquility. Think hammam and saunas, but also water works such as a chromatic waterfall (called the Grotto), outdoor pools including separate salt pool and ones with jets, unique relaxation rooms, each with a different "theme". These include a room with sounds of nature and swings that make it seem like you are in the trees in a nest like a bird. While the room in Italian is called the Room of Nests, in English, a cocoon would me more appropriate. Another room has water beds, while another has Himalayan salt lining its walls and appropriately called the Salt Room. This area has many elements inspired and brought over from southeast Asia, fusing Italian modernity with oriental designs.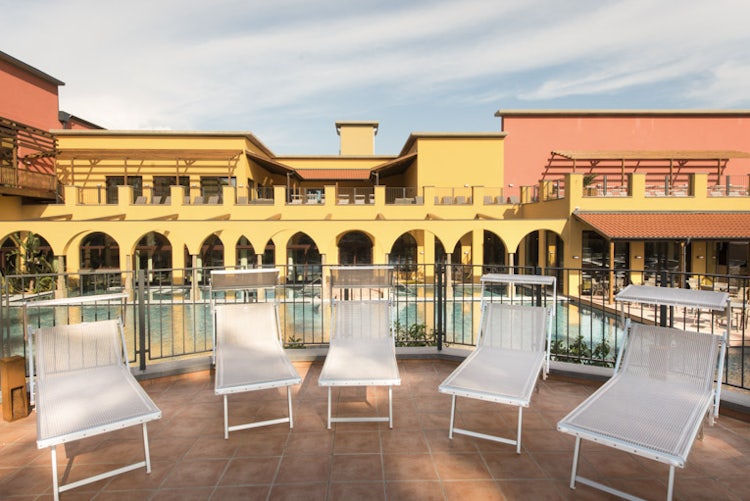 What to expect
What to bring along
two large towels
a bathrobe
your swimsuit
bathing slippers
shower items
After you've checked in, head into the locker room which offers a soft transition into Asmana. The bracelet/watch you're given will both open the locker you've been assigned as well as keep track of any extra expenses you incur inside (you can safely leave your purse and wallet in your locker as you won't need them, the bracelet will electronically register what you "buy", from water, fruit drinks and any food you eat at the on-site restaurant, plus any short massages or facials you decide to enjoy. Don't worry, the bracelet does not automatically take any money, you will personally pay for these extra expenses right before you exit Asmana). The locker area is unisex, the entrance into the locker area has changing cabins to change in.
Once in your swimsuit, take a quick shower and dry off completely and prepare to enter into the world of Asmana! It is recommended you start warming up first, so the first step is in the first area you walk out into: a warm foot bath! After a few minutes here warming up, head into the heated indoor water pool and enjoy the water jets massaging your muscles. Little by little, you will start relaxing like we did. Now, take your time to explore each area even though you will find yourself as curious as we were the first time we went in to explore all that Asmana has to offer.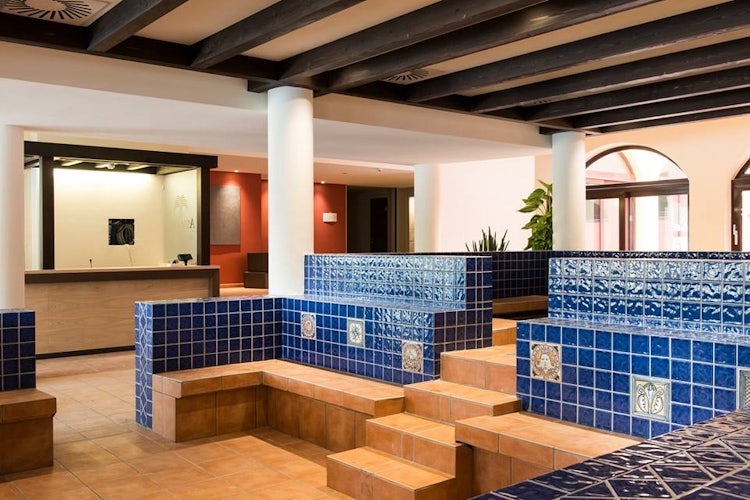 Ceremonies of Wellness
So what does Asmana offer? Lots! But one of the most special things are the special ceremonies in the sauna and hammam called "Aufguss" planned throughout the day. While they are well-known in Germany and northern Europe, Asmana is the first to bring them to Italy. You won't find them at any other spa or wellness center in Italy yet. Make note of the times at which they are offered when you first arrive and try to make it to one in the sauna and one in the hammam, as we did, to experience both areas in this special way. In these ceremonies, music, steam, essential oils and the trained staff who move the air around will ensure you enjoy a memorable sauna experience. An herbal tea is offered at the end. In the hammam, the ceremony includes salt given out to use as a scrub to spread out on your body as you enjoy your purifying steam bath.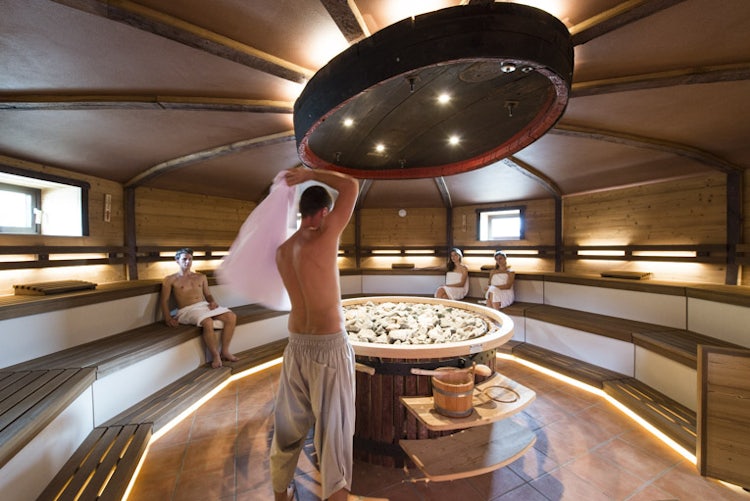 When we go to Asmana, we find it both fun and very relaxing. First, we like to go into the indoor pool and then out into the outdoor ones, enjoyed both the salt pool as well as the small jet river around a small island at the far end of the outdoor pool called the Vortex. This was a lot of fun! The jets are quite strong and literally can carry you off, round and round, like the current of a river. I let myself be carried in the current, delighting in the pull of the water and feeling completely safe, something that you might never do in a real river. This area is surrounded by a beautiful garden with lounge chairs to catch some sun.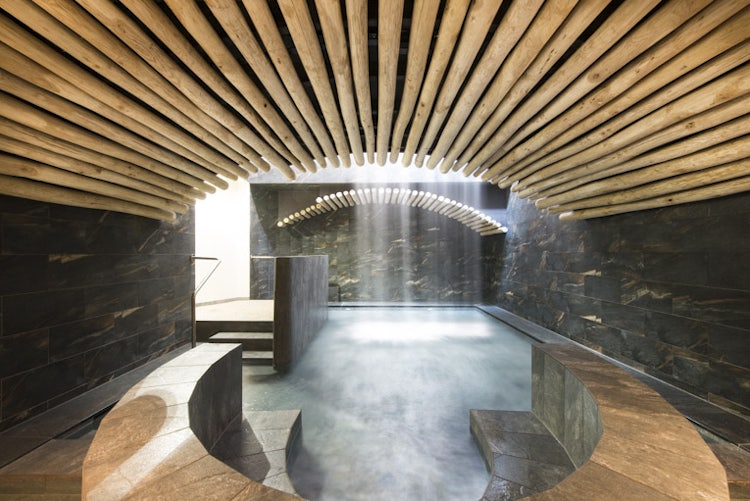 The fun continues as we head back indoors to explore the Cave or Grotto with its waterfall and chromo-therapy, the three saunas (which go from 60°C to 80°C and from 20-30% humidity) and the various relaxation areas before heading into the Hammam with its various distinct areas. We like to plan a break to enjoy a light lunch at the on-site restaurant, which we always find tasty and a perfect complement to our day dedicated to body and soul. Make sure to take breaks and restore hydration throughout the day, particularly after you spend any time in the saunas or steam rooms.
Relaxation 100% Guaranteed
Two very important notes to make about how Asmana ensures you get the chance to fully relax: no children under 18 and no cell phones are allowed within. While the first is for safety reasons, I believe it is the perfect excuse for parents to leave the kids behind and take time out just for themselves. Not that you want to leave the family out of this special experience, but this experience itself requires no distractions (there is a water park nearby that you can enjoy with the little ones called Hidron on a separate day). You can bring your kids along to Asmana - as long as they are over 18! The no cellphones policy makes sense, even if it might seem strange at first ;-).
Asmana is perfect for couples and to go with a small group of friends. You will be recharging and regenerating, going home at the end of your visit perfectly relaxed... and looking forward to repeating the experience soon!
Special events every day of the week

I already mentioned the Aufguss ceremonies that are carried out in the saunas and the Hammam every single day at various times throughout the day, but there is something special going on pretty much all the time in other parts of Asmana. I've written a separate post on the special rituals planned, from the Tibetan bells ceremony to the aperitivo at Asmana (only during the summer) to the special Marocco-inspired Hammam experience.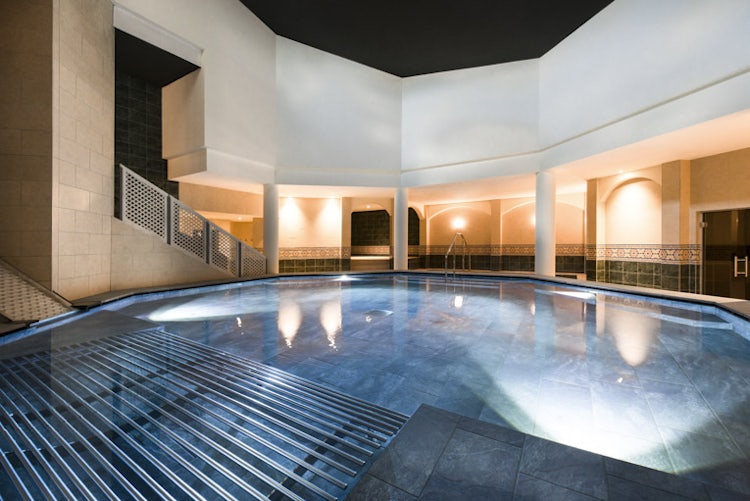 HOW ASMANA WORKS
You don't need reservations, just take along a swimsuit, a bathrobe, pool slippers (flip flops) and 2 large towels (one to use inside the saunas and to spread out on the lounge chairs or beds, and the other to use at the end for your shower). If you don't have any of these items with you, you can rent or buy some on site.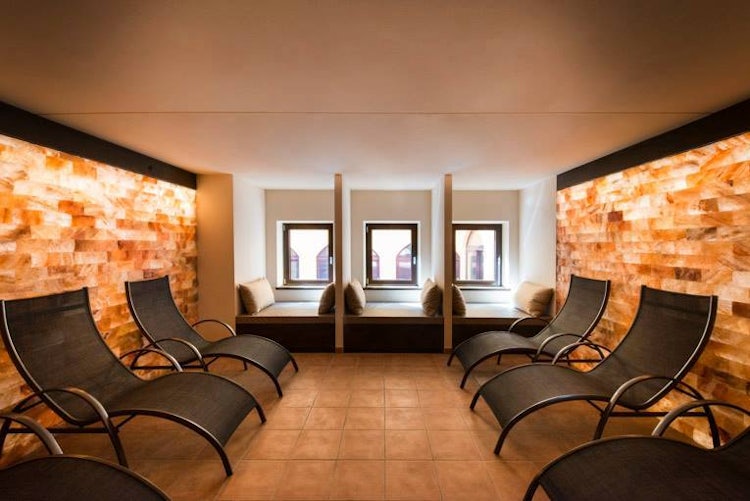 It is actually more convenient to just rent some of the items, such as the large towels and a bathrobe (towels for €4, the robes are €8 and shower slippers are €8). You can take the slippers home as a souvenir. If you're also in need of a bathing suit, you can purchase a swimsuit at the reception but I'm sure you'll have one packed for your trip to Italy, just remember to bring it along! You don't need to worry about a lock for the lockers, as your bracelet is used to close and open your locker and to pay for extra services, snacks or meals within the center without the need to take your wallet with you. You'll pay for these at the end of your day when you exit the center. Remember, no cell phones inside the spa area either! Respect the silence for everyone and yourself.
HOW MUCH DOES ASMANA COST?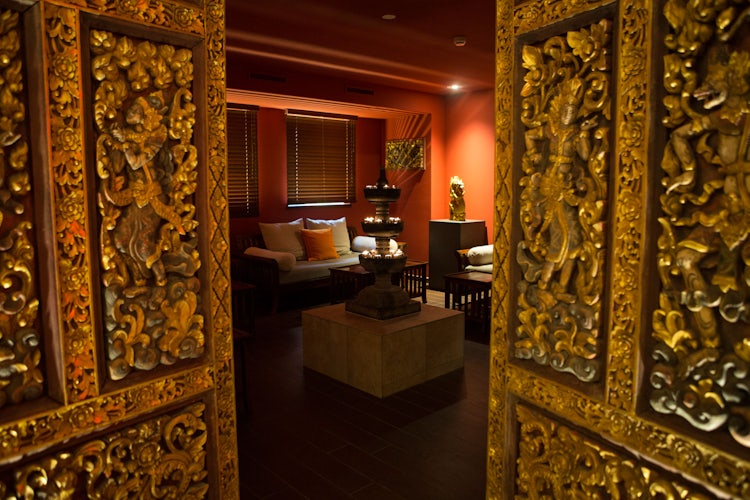 You have several choices depending on the time you have available. The basic costs during WEEKDAYS are:
2 hours – 21 euro
4 hours – 26 euro
full day – 34 euro
You need to add an extra €3 on weekends, long weekends, public holidays and during the Christmas holidays. The extra cost serves as an incentive to visit during the week ;-). We went on a weekday and while we found that were a lot of cars outside, once inside we never had the impression that the center was crowded or that there were too many people in any one area.
Special Rates
every day if you enter after 7pm: get 4 hours for the price of 2!
on Saturday and Sunday only: enter between 9:00-9:30am and enjoy 4 hours for the price of 2 (remember, weekend rates are +€3 to the basic weekday rates)!
When you check-in, you pay for however long you plan to stay. Say you pay for only 2 hours. Once inside, if 2 hours are not enough, you can decide to stay longer! Each extra half hour costs €1,50 up to the maximum cost of a full day ticket, you pay the difference when you check-out. Of course, if you decide for 4 hours from the start, the total cost is more convenient. I think 4 hours is the perfect amount of time when you know for certain you cannot stay the full day or anymore than 4 hours. Once you're inside, since you're relaxing you shouldn't really worry about time! That's the purpose of going to a place like Asmana.
Book your time at Asmana online!
OPENING TIMES at ASMANA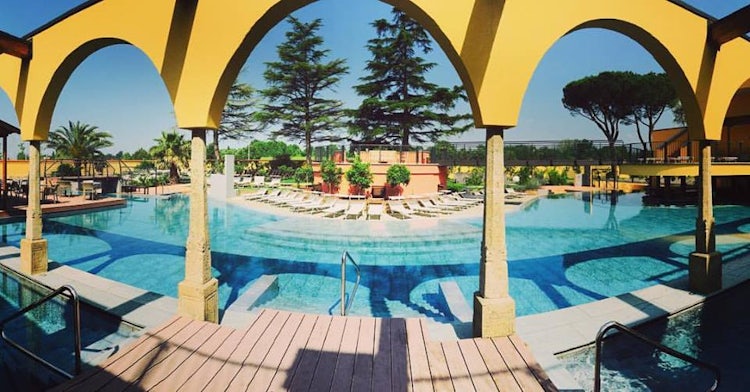 The center has really convenient opening times to allow for a full day of relaxation. It is open daily from Monday through Thursday from 10am to midnight, staying open an hour longer on Fridays and Saturdays (so until 1am) and opens an hour earlier, at 9am, on the weekends. We look forward to going back and enjoying the evening hours there, maybe even on a working day for us or to enjoy the outdoors during the summer. They have live music in the summer months on Saturdays!
If you're there during meal times, take advantage of the pool bar, the bistrot or restaurant where you can have anything from snacks and smoothies to excellent, delicious light meals in between your Hammam, sauna and pool time. We enjoyed our lunch and juice breaks. You're taking care of your body inside and out by eating well. In the summer, the pool bar between the indoor and outside pool offers freshly made juices and cocktails.
Having both indoor and outdoor areas, the center is perfect to be enjoyed year round: fall, winter, spring and summer! In the winter, the heated outdoor pools let you taste the experience of hot springs in the open while the pools cool you down in the summer! Want to read more about how to enjoy Asmana during the summer?
A UNIQUE EXPERIENCE IN ALL OF ITALY
If you realize that all of this is quite special, you'd be correct: Asmana and the experience it provides is unique in all of Italy. It is the brainchild of two non-Italians, a husband and wife team Florentin Döring and Ariba Tanvir, who dreamt of offering a world of general well-being and have created the largest wellness center in all of Italy. The spa offers the chance to escape for a day from daily life and its stresses, whether you're on vacation or live here. Döring and Tanvir left New York City and came to Tuscany to escape the daily chaos of city life and enjoy a slower way of life. They are sharing this new lifestyle with everyone, creating a place where everyone can have well-being at their fingertips.
HOW TO REACH ASMANA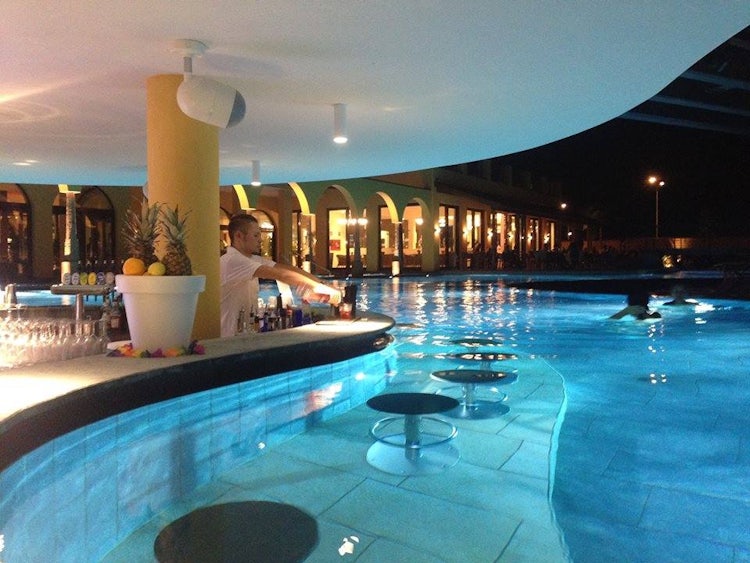 Asmana is located in the outskirts of Florence, in the small town of Campi Bisenzio which is near where the A1 and A11 toll roads cross near the Florence airport. It is in the "middle of nowhere" which means there is space all around: gardens surround the spa center and located away from any chaos of city traffic. The easiest way to get there is by car, especially if you're staying anywhere in the Tuscan countryside, and it has a large parking lot. You can easily drive there on the A1 (exit "Calenzano", then it is just 4 minutes drive from the exit heading in the direction of "Campi Bisenzio") or the A11 (exit "Prato Est", direction "Campi Bisenzio": Asmana is 5 minutes away).
If you don't have a car and moving around with public transport, you can take a train to Prato or Florence and from there catch a bus. From Florence's SMN, take ATAF bus 30A/30C (bus stop is "Limite" in Campi Bisenzio) or a CAP bus, line CF (bus stop is "Allende 01"); from Prato Centrale, take a CAP bus, line CF (bus stop "Allende 01"). From the bus stop, you will need a 5-10 minute walk along Via di Limite in the direction of Parco Villa Montalvo or along Via Allende to reach Asmana.
With no car, the easiest way to get there is by taxi, particularly if you're staying in central Florence. You can skip any walking, especially at the end of your day of relaxation. Rates are around €30-35.
Book your entrance & massage at Asmana online!
To conclude, I want to highlight the most important elements that will positively impact your day of relaxation at Asmana:
no kids under 18 are allowed (safety reasons)
no mobile phones allowed inside
the power of water, heat and tranquility will help you fully relax and regenerate your body and soul!
We realized we ourselves are surrounded by the beauty of Italy but often get stuck in following our daily routines. Thankfully, we do have the chance to often mix pleasurable endeavors into our work as well – and our visits to Asmana Wellness World have us always planning the next time we can head back!
I hope this presentation to Asmana has made you curious to discover and explore it yourself, as there are many rooms and areas spread across the spa center I did not even name in order to not spoil the full surprise of your visit! Hope you enjoy your relaxation at Asmana soon. Maybe we'll see you there!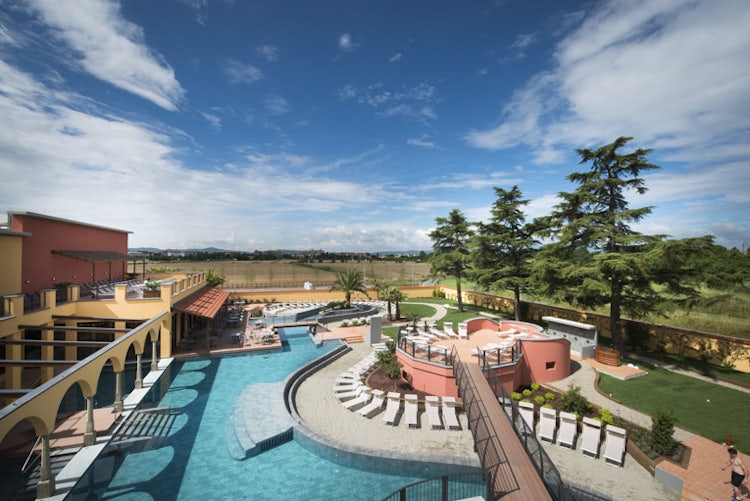 This is a Sponsored Article but reflects the honest opinion and experience of the author. More details »