Itinerary Suggestions while Strolling the City Streets
Pisa is known worldwide mostly just for its Leaning Tower, but we encourage you not forget that there are many other reasons for visiting this wonderful city (just don't ask what from someone who is from Lucca or Livorno, as the rivality that has existed for centuries between the three cities still exists today. A saying here says: Better a dead person in your house than a Pisan at your door!!).
First, getting to Pisa
If you choose public transport over driving, then you can avoid all the hassle of find parking and it is a easy choice since, since Pisa is very well connected to all of the main destinations in Tuscany. Train is by far the the easiest, fastest and cheapest way to get there. If you are nearby, in Lucca for example, you also have the option of getting there by bus, which will offer a more panoramic trip but if you only have one day at your disposal to visit Pisa, I recommend the train.
You can also drive to Pisa, of course, but do expect a bit of difficulty finding free parking near the Square of Miracles and there can be traffic, like many other cities (then read our tips about parking in Pisa).
Looking for some general info about how to move around Pisa (and getting to the Leaning Tower and Squares of Miracles)? Read our tips here.
Organized Walking and Biking Tours
Take part in an organized tour of the city of Pisa and an expert guide will lead you to discover the main attractions and secrets of this little jewel in Tuscany. Among the proposals you will also find tours for small groups, short guided tours (which will allow you to organize the rest of the day by yourself) and bike tours.
A walking Tour Proposal to do on your own
Let's starts at the train station (since most of you will arrive by train or bus). Starting here also makes sense if you're already in Pisa if you spent the night here: you'll likely be in the city center, so you can head by foot to the square in front of the train station, but if you're in the surroundings, you can also just catch a bus and you'll likely be dropped off there as well.
1. Piazza Vittorio Emanuele & Lungarno Galilei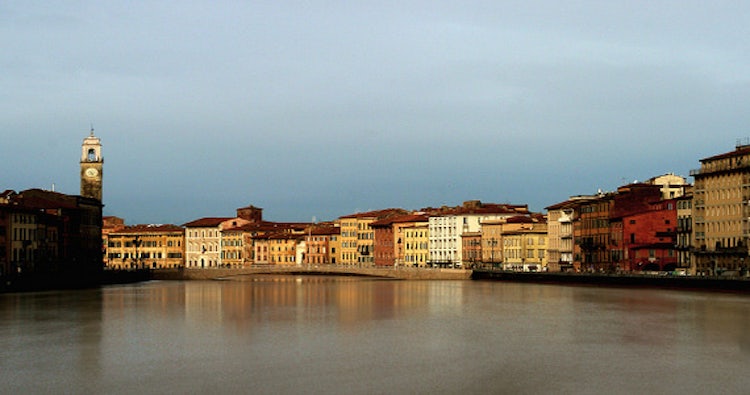 Outside the station, the first thing you see is Piazza Vittorio Emanuele, the administrative core of the city: this is an amphitheatre-shaped square surrounded by a circular, fully-pedestrian open gallery full of shops where several historical buildings look onto. Cross the square and head onto Corso Italia, the most important and renowned street of Pisa, a paradise for anyone that loves shopping!
Keep heading up the street, leaving behind Piazza del Carmine and Piazza della Pera to arrive at the famous Logge dei Banchi, just in front of Ponte di Mezzo on the Arno river (where the traditional Battle of the Bridge is usually celebrated). The Loggia, a characteristic and impressive covered open space was built according to a project designed by the famous Buontalenti at the beginning of the 17th century and used to offer shelter to the silk and wool market (from here comes its name, as banchi in Italian means stand as those found in markets).
Don't cross the Arno just yet and head to your right onto the Lungarno Galilei: the "lungarni" are the roads that run along the Arno river, both in Pisa and in Florence, and are important streets for both residents and visitors alike. There are many cafes and restaurants along the river, and these streets are a popular meeting places for all who live in Pisa while for visitors it is the perfect place to enjoy a nice leisurely stroll and admire the architectural and historical treasures of the city. The Lungarni in Pisa show it's essence.
Before you arrive at the next bridge, called Ponte della Fortezza and crossing the Arno, I would like you to focus your attention on the unique San Sepolcro church, an octagonal building built as a refuge, a hospital and a monastery, dedicated to the Knights Templar.
2. Lungarno Mediceo & Piazza dei Cavalieri
Along the other side of the Arno, instead, runs the Lungarno Mediceo, known mostly for the Medici Palace also called Palazzo Vecchio (both Cosimo Il Vecchio and Lorenzo Il Magnifico lived here) and for the Church of San Matteo and National Museum, home to important works of art by internationally renowned Italian artists.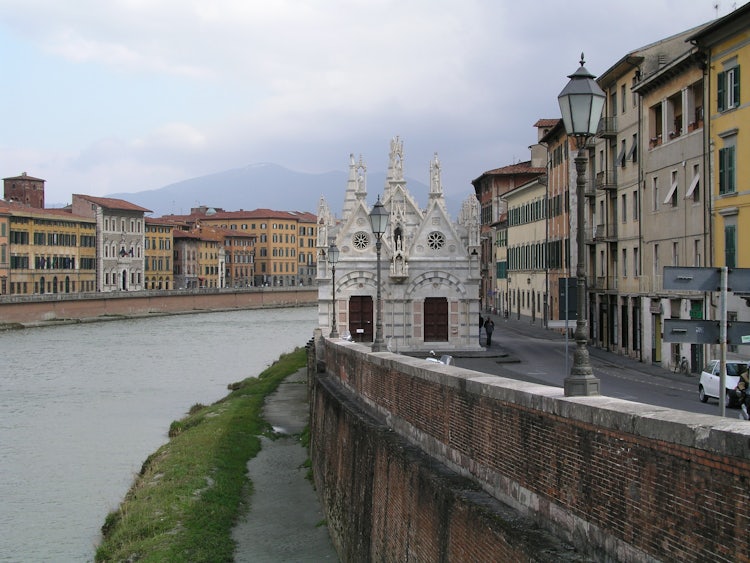 A few steps from there, we finally arrive at characteristic Borgo Stretto, a tiny medieval road surrounded by loggias and open galleries with small shops and stores that always catch the attention of people for taking you back a step in time!
As soon as the loggia ends on the left, turn onto this street and head toward Piazza dei Cavalieri, a place you need to pass on your way to the Square of Miracles. It isn't a large square, but is always crowded with people and students running from one place to another or sitting down and chatting somewhere. The piazza is home to the prestigious university Scuola Normale di Pisa and to the Clock Palace. This palace is characterised by two towers, one of which - the Hunger Tower - has been mentioned by Dante Alighieri in his Divine Comedy, and is thus widely known. Count Ugolino della Gherardesca, together with his sons and grandchildren, was imprisoned there and left to starve to death during the Middle Ages.
3. The Square of Miracles
In less than 10 minutes from here, heading on to Via Santa Maria, you'll finally arrive at Piazza dei Miracoli, the Square of Miracles. As you approach, you will get the chance to catch sight of this marvellous place with its Leaning Tower and the other beautiful buildings that surround it - the Baptistery, the Cathedral and the Monumental Cemetery (representing the cycle of life).
The Cathedral is a wonderful example of Pisan-Romanesque architecture whose white-and-grey marble façade has been decorated with polychrome marble, creating a great first impact. The interiors, on the other hand, have been realized with white-and-black marbles. The bell tower, about 50 meters high, is known worldwide for its unintended tilt to one side. Why? The ground is too soft underneath! It is inadequate to support the tower's structure and weight and this was already evident from the very start, before it was even finished.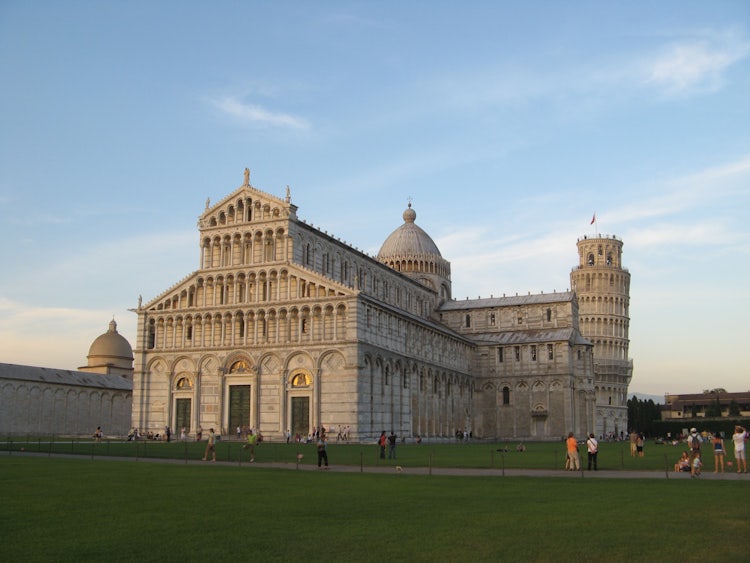 Being in front of the Tower of Pisa is something really exciting! When I visit Pisa I loved standing in front of the Tower to admire it. Can you imagine what the square would look like if the tower was not tilted? I believe that it would lose some of its unique charm.
Can you imagine what the souvenir stands that surround the square would be selling instead? Do you think this place would have been famous on its own or would it have been one of those hidden secrets to be shared among art lovers and connoisseurs? The tower underwent many years of restoration to make sure the leaning stops and it doesn't end up falling on its side, and it was closed to visitors then... but now it is once again open and you can climb to the top! A climb I highly recommend as a once-in-a-lifetime experience to do in Pisa and considering that the number of accesses to the tower is limited, I suggest you consider buying tickets to get on the Tower in advance.
Book the tickets for the Leaning Tower
Would you ever have guessed that the Baptistery or the nearby Camposanto (a Gothic-style cemetery) are the most visited destinations of Italian high school students every year, exactly 100 days before the beginning of exams? Well, there's a good luck ritual consisting of going around the Baptistery as many times as the mark you would like to get on your graduation exam... and it's also a very good reason to skip school for. If you happen to visit on that day and see really funny behavior from young students, you will understand what they are up to!
Facing the square you'll also find the Museo dell'Opera del Duomo, home to the several artworks and statues from the Cathedral and the Baptistery, and the Sinopie Museum. Entrance to all of the monuments require a ticket except for the Cathedral; you may buy tickets for just one or more monuments in the square (the tower is the only one that requires a separate ticket).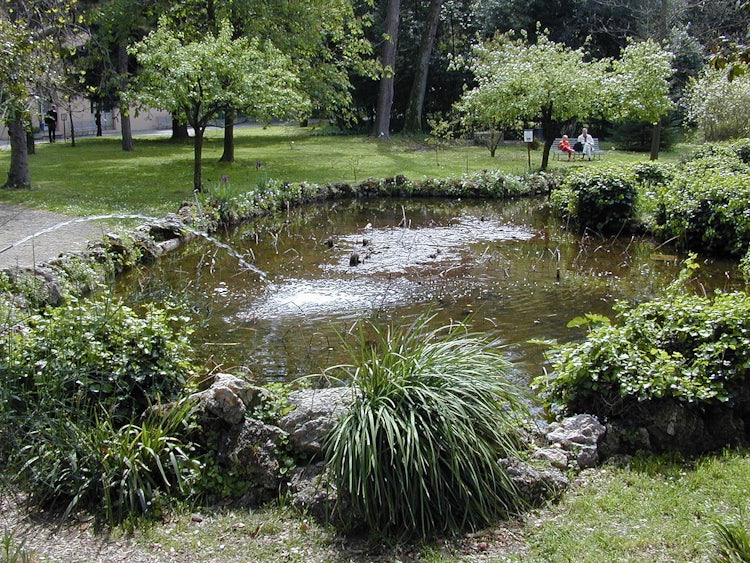 4. The Botanical Garden
Your day is not yet completed after your visit to the famous Square of Miracles. Now, located just 3 minutes walking distance from the Square of Miracles, you'll find the Orto Botanico or Botanical Garden of Pisa, a destination that brings a bit of nature into this artistic itinerary of Pisa. Entrance to the garden is very cheap: adults pay 4 euros, there are also reduced entrances (8 euros) for families with children (prices updated Feb. 2018).
Instead of going back to the main train station where we've started our itinerary, you could save time and give your tired feet a break by heading to the other rail station in Pisa, Pisa-San Rossore. Here, you can take the train to Lucca and then on to Florence or to Pisa Centrale to change trains should you need to go elsewhere. If you decide to treat yourself to a last short break before going back home, take the chance to try one of the delicious restaurants in the old city center or along the Lungarni: there are many offering great, delicious Tuscan dishes at very reasonable prices.
Day trips & Tours From Pisa
Pisa would be an ideal base for your holiday in Tuscany!
If you're looking for some ideas for exploring and enjoying the best of Tuscany with a departure point in Pisa, read our reviews of the top day trips & tours from Pisa.