Chestnuts and the many dishes you can enjoy in Tuscany in fall
Chestnuts, known as castagne or marroni in Italian, are an important part of Tuscan cuisine, as well as economy. Back in the old days, the fruit of the trees was free and it was the poor man's food, all you needed was to go into the woods and collect them. For this reason, it was the base of the diet for anyone living in the mountain areas of Tuscany. Today, I'm going to share some of the most popular and common ways in which chestnuts are eaten in Tuscany so that you can try them, too!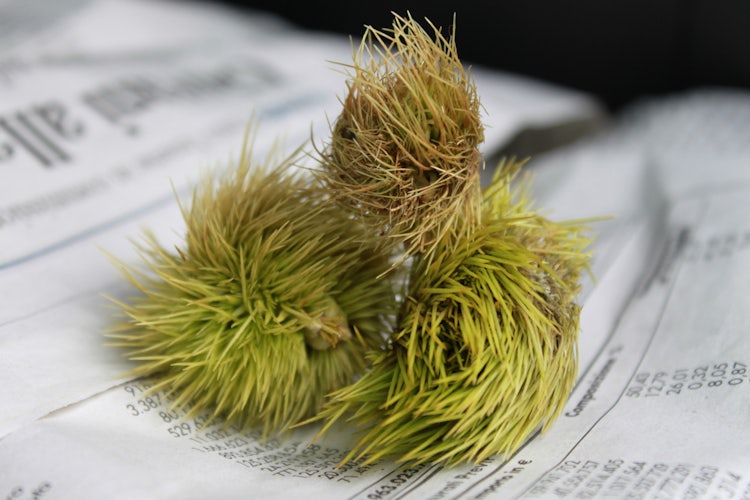 First, a little about when you'll find them fresh: they are best during the fall season, particularly in the month of October. This is the season when they mature and are ready for roasting, boiling, mashing into puree and more. Many sagras (food festivals during this month focus on chestnuts) and will offer the chance to taste them in many shapes and forms. You'll find chestnut flour, glazed or dried chestnuts throughout the rest of the year to try out if you're not in Tuscany in the autumn.
Next, a bit on where you'll find them in Tuscany. Chestnuts grow at higher elevations therefore are to be found in the mountains of Tuscany. For this reason, they are common along the Apuan Alps and the Apennines as they make their way down the region, from the Alps in Lunigiana and Garfagnana to the area north of Pistoia to the Casentino along eastern Tusany, as well as in northern Tuscany, particularly around Marradi in the Mugello. The Amiata mountain standing tall in southern Tuscany is another area where chestnuts are to be found, and which are part of local, traditional dishes. Of course, the mountains are not far from Florence or Siena, so in the right season, you'll also be able to sample these tasty treats across all of Tuscany!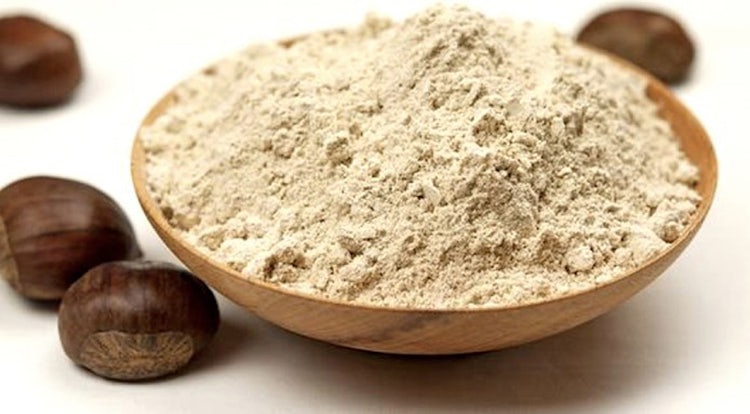 Nowadays, the growth, harvest and sell of the chestnut is regulated and protected in "geographical areas of protected origin" to maintain and guarantee the high quality of the product. In particular, the most prestigious chestnuts now are in 3 protected areas in Tuscany: there is the Castagna del Monte Amiata IGP, the Marrone del Mugello IGP and, in its transformed version, as chestnut flour in Garfagnana with the Farina di Neccio della Garfagnana IGP. Another area near Arezzo with chestnuts is to the north of the city and known as the Marrone of Caprese Michelangelo. If you're in any of these areas, I highly recommend you make a stop to enjoy the seasonal cuisine – and take some chestnuts or flour home! A note on the Mugello marrone: it is a specific local variety belonging to the Florentine chestnut family. It is quite medium-large in size and has thin skin and in general is considered the best for making many chestnut based recipes. If you're here in October, check out the many sagre (food festivals) you could head to taste many dishes with chestnuts at the center of the festival.
Ready to try chestnuts out? If you're visiting Tuscany during the fall, you'll find a wider variety of some of the following dishes – and many that are part of Tuscan cuisine that can be tasted year round!
Castagnaccio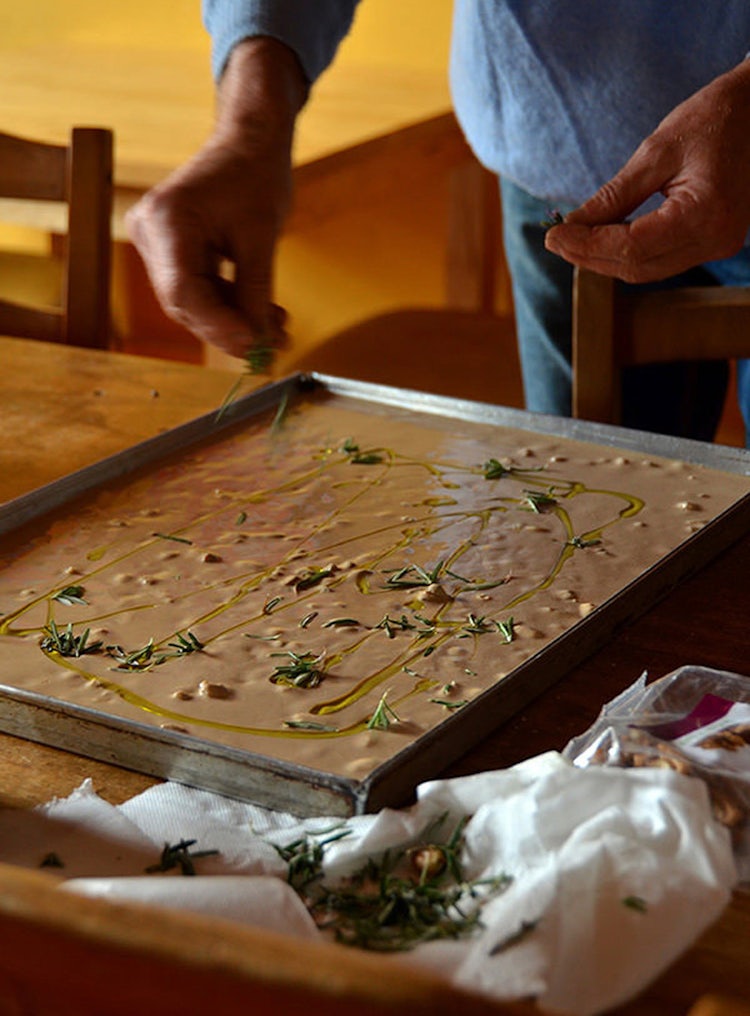 Take a class!
If you're interested in learning Tuscan recipes made with chestnuts or chestnut flour, it would be ideal to take a cooking class! Considering it is gluten-free, this class presents Tuscan recipes with chestnuts as well chickpeas, potatoes and almonds, a perfect way to enjoy lunch and a visit to a local winery and wine tastings as well ;-).
We'll start with a "sweet"... and why not?! Castagnaccio is one of the most common Tuscan desserts you'll find across the entire region and, because it is made of chestnut flour, you'll find it throughout the entire year. It is a flat cake made with a few ingredients, generally chestnut flour, olive oil, rosemary, pine nuts and/or walnuts. Some also add raisins or orange zest for additional flavor. Because chestnuts are naturally sweet, and chestnut flour considered a "sweet" flour, this traditional dessert generally has no added or very little sugar added to allow the delicate flavor and fragrance of the chestnuts to shine through. With each bite, you'll be able to identify the hints of rosemary, the taste of the olive oil, the pine nuts. If you love sugary desserts, just warn your tastebuds that castagnaccio is not your traditional sweet dessert. For this reason, it is best enjoyed with a glass if vinsanto, Tuscany's sweet dessert wine.
Depending on the area you find yourself in Tuscany, you might also see castagnaccio under other names on the menu, including migliaccio, pattona, baldino, toppone, ghirighio or torta di neccio (chestnut cake)! Also, you'll likely find variations on the castagnaccio nowadays, with many adding sugar, milk and sometimes even chocolate. It is quite delicious when served with whipped cream or fresh ricotta on top.
The pattona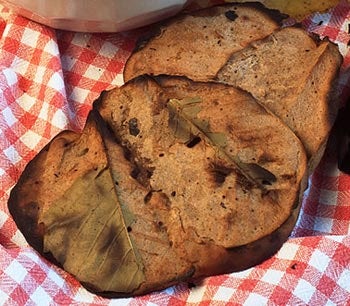 The "pattona" is also a local name used in Casentino for the traditional polenta made of chestnut flour. In other parts of Tuscany, chestnuts are also called necci so you'll also see terms such as polenta di necci (in the area of Pistoia and Lunigiana and Garfagnana) and in other parts the polenta is simply called a polenta di castagne (Amiata) or as sweet polenta (Siena).
If you've heard of polenta before, then you know it is traditionally a dish that resembles a mush or porridge made of coarsely ground cornmeal, thus made of yellow corn. In Italy, you'll find polenta can be made from other ingredients aside from corn, including chestnut flour, farro (spelt), chickpeas or millet. Basically any grain cooked in water (sometimes broth) that will turn to mush. It is delicious topped with a savory sauce, such as ragu or tomato sauce, sprinkled with cheese. It is soft and warm, perfect for cool fall and winter evenings.
Given that chestnuts pair very well with ricotta cheese, the simplest and quite delicate dish you'll find pattona served with butter and fresh ricotta cheese.
So what happens when you have leftover polenta? It congeals into a block when it gets cold, so it is perfect for cutting up into slices and either frying or baking. As far as chestnut polenta goes, when cut into long, thin pieces and baked, they are called menni, a perfect breakfast cookie to dip in your coffee or to dip into fresh, sweetened ricotta.
The ballotta and the caldarrosta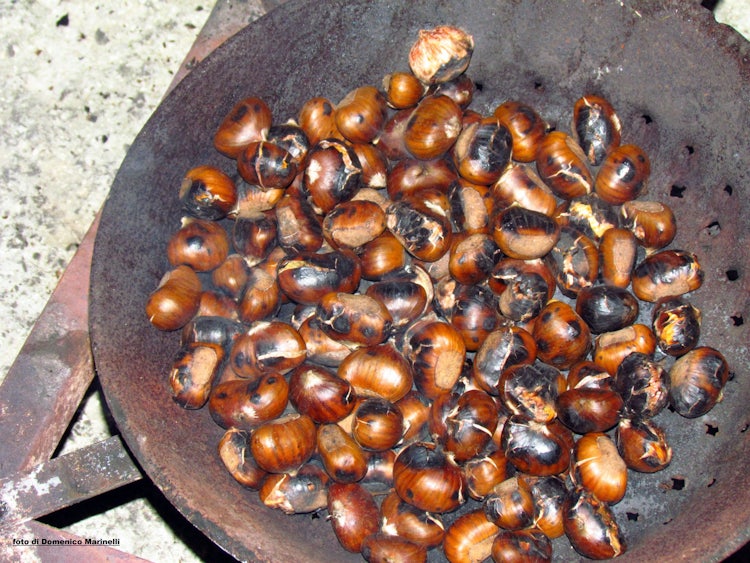 The most basic ways to eat chestnuts are either boiled or roasted. The ballotta is a boiled chestnut, cooked in water with other aromas such as bay leaves or cinnamon sticks. The roasted chestnut is most often called caldarrosta (you'll see carts roasting and selling these in the streets of Florence in fall and winter) but is also known as the bruciata or frugiata, depending on where you find yourself in Tuscany. The delicious flavor of roasted chestnuts in the air often invokes the holiday season in Tuscany, as I'm sure it does in other parts of the world.
From the boiled ballotta, you can get delicious pudding or "budino di castagne", often made with the marroni variety of chestnuts from Marradi in northern Tuscany. Boiled chestnuts also make the base of yummy gelato in the fall season. As far as savory dishes, the boiled chestnut is also pan-fried with a bit of oil, salt and rosemary and softened with broth to be used as either a side dish to roasted meat dishes or as topping to corn polenta, with the pan juices poured over. These dishes are most often found in Garfagnana and Mugello.
You will also find and try the "bruciate ubriache", or drunk chestnuts by placing roasted chestnuts in grappa or wine, flambé the spirit and sprinkled with some sugar, a great way to warm up in the winter.
The Tuscan crepe, the "Necci"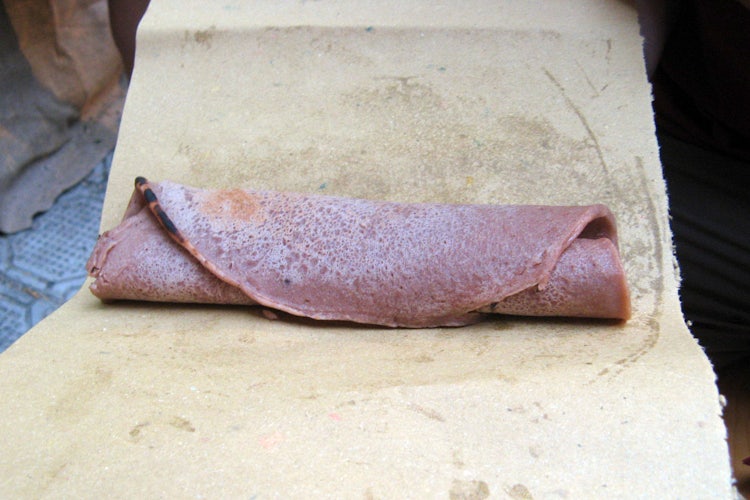 Pistoia, the city of the Neccio
If you want to taste "necci", then you need to head to Pistoia! In the fall, you can enjoy a short 2.5 hour private walking tour of the city center that will take you to see all of the main highlights in the city, or a longer half day private tour that includes transport from Florence.
For those who lived in the mountain, necci were their everyday bread. You can still find necci on the menu when you visit mountain towns in the winter, especially in the mountains to the north of Pistoia that are a popular winter ski destination. Necci are made by mixing chestnut flour with water to create a very fluid dough, which is then cooked in between two very hot cast-iron round plates. A very thin flatbread, reminiscent of a wrap or tortilla, is the result and used to eat your meal by cutting away pieces, but I've more often found necci on the menu with a filling, both savory and sweet. As mentioned above, the most common combination for the sweet version is with lightly sweetened ricotta cheese – try it! You can make this at home like you would a crepe, just coating the bottom of a non-stick skillet with enough batter to make a really thin crepe, then filling it up with your favorite filling.
Soup: Minestra or minestrone
In the Amiata area as well as the Lunigiana, you'll find chestnuts in your soup! In Amiata, it is called brodolose and has dried chestnuts revived in the broth of the soup, while in Lunigiana you'll often see chestnuts with beans or farro as another common mix. Keep in mind these soups had to keep farmers warm as well as full during the winter working hours and thus were quite hearty. Anyone who loves healthy, natural cooking will appreciate the many "homemade" variations that restaurants in these areas offer.
Pasta: Tagliatelle, ravioli, gnocchi and lasagne bastarde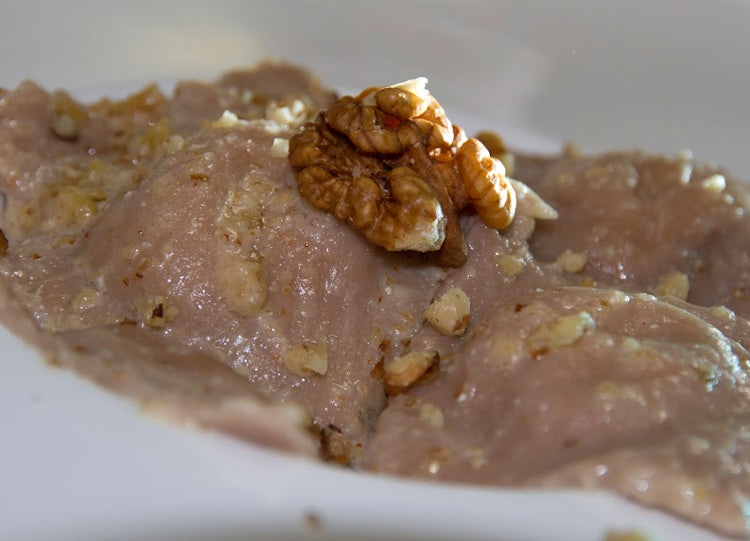 Other savory versions of chestnut dishes in Tuscany will be found in the form of first course pasta dishes, such as tagliatelle, gnocchi, stuffed ravioli and lasagna pieces called "bastarde" given their uneven cutting (done on purpose). The tagliatelle are most often found in and around Florence, while the gnocchi are more often found in the Pistoia mountains and the "lasagne bastarde" in the Lunigiana, but the dishes are popular so you'll likely find them across the entire region. All are made with chestnut flour as the pasta base, and then flavored with either tomato-based sauces, but more often than not, it is more common to find chestnut pasta or gnocchi with more delicate milk-based sauces that will include ricotta, butter, aromatic herbs, walnuts or even just plain, with melted butter and sage or melted butter and lots of grated pecorino cheese on top. Writing this article is making me hungry!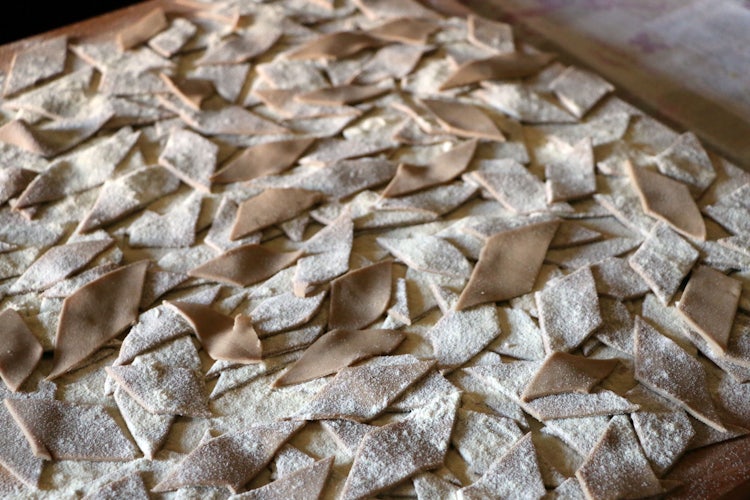 Let's talks sweets: starting with sweet Tortelli or "dolci"
Tortelli are stuffed dough sweets found as a snack food – often fried but can also be oven baked. Tortelli dolci, or sweet tortelli, are very popular in Garfagnana and are squared-shaped dough stuffed with a sweet filling which includes chestnuts (boiled and pureed), a jam of other fruits, such as peach, raisins, pine nuts, chocolate, rum and a hint of anise aroma. They are sprinkled with powdered sugar and are quite a treat!
Monte Bianco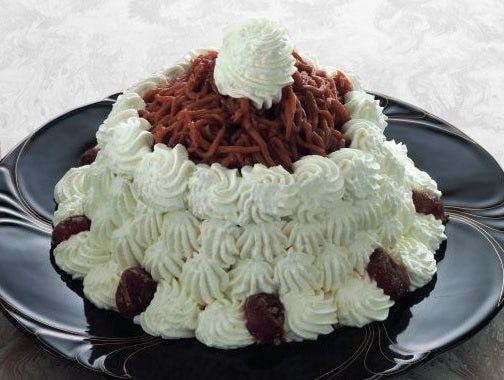 This sweet is found in other regions of Italy, but in Tuscany, particularly at the Abetone, it is always made with chestnuts. The name means "white mountain" and that is what it looks like: a mountain of pureed chestnuts mixed with sugar, rum, cognac and cocoa powder. The entire "mountain" is covered with whipped cream (not too sweet) and chocolate shavings. This is a dessert meant to be shared – YUM!
Migliaccini
These are fried dough balls made with chestnut flour and water, with a bit of oil in the dough. They are even better when they have raisins and pine nuts included in the batter, and a bit of rosemary in the frying oil to give it the essence of the herb.
Fritelle di castagne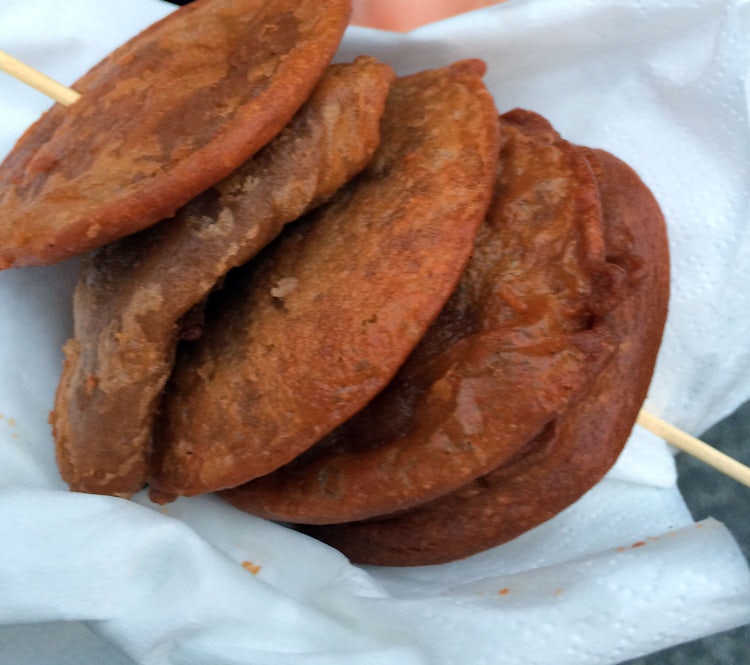 In Prato and in Mugello, you'll find this version of fried chestnut dough balls that include raisins and a mix of walnuts, toasted almonds and pine nuts. You can add some orange zest or a bit of sugar to make them more flavorful, but you'll have to do some taste tasting to find the combo that you like the most. They are fried and sometimes have sprinkled sugar on top, but most often don't.
Caramelized marroni
A final product you should taste any time of the year: sugared chestnuts! It is a prefect way to keep chestnuts once the season is past, so you'll find chestnuts in this form or under liquor to taste at any time of the year.
Make your own castagnaccio!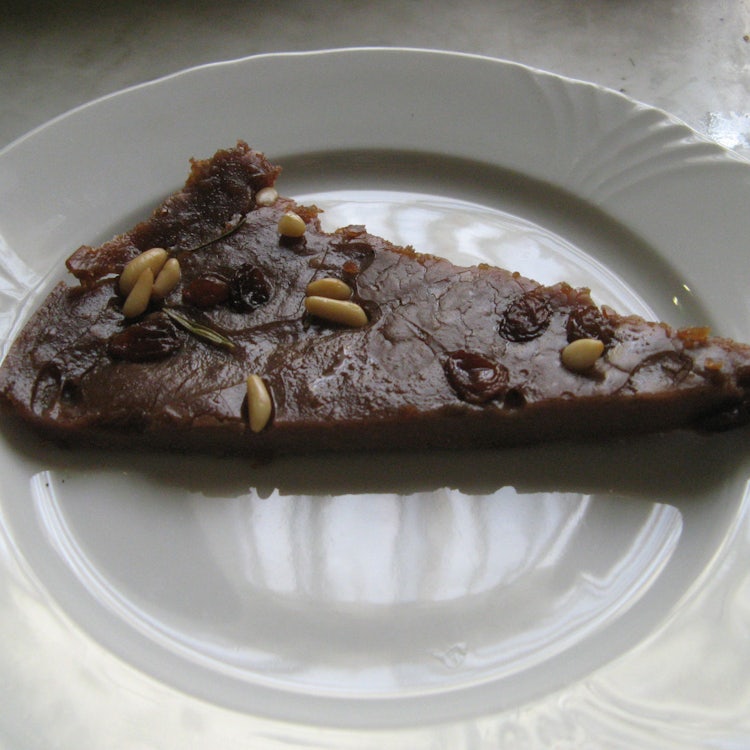 The easiest souvenir to take home with you will be chestnut flour or you might be able to find it at home at a natural foods store.
You'll need:
250 gr of chestnut flour
100 gr raisins
80 gr pine nuts
about 1 cup of warm water (use less or more as needed)
1 tbsp olive oil
pinch of salt
fresh rosemary
optional but recommended: fresh ricotta cheese or whipped cream, both sweetened a bit.
First, plump up your raisins in some hot water for 15 minutes. Preheat your oven to 180°C (375°F).
Sift the chestnut flour into a large bowl, add warm water a trickle at a time as you mix. You don't want any lumps to form. You want it to become very watery, you'll end up using about a cup. If you get lumps, mix until you get rid of them.
Add the olive oil and the pinch of salt, as well as the raisins, drained well (do not add the water in which you soaked the raisins). Add in about 2/3 of the pine nuts, reserve the rest for the top.
You need a low rim pan (I used a large paella pan, to be honest, it is about 28cm wide but something like a 9x13" baking dish would also work). Oil the bottom and sides well and slowly add the flour mixture in. It should not be higher than around 1 cm (about half an inch). Sprinkle the remaining pine nuts on top, as well as the needles of the fresh rosemary. Drizzle a bit of oil on top and bake for about 35 minutes. You want the surface of the cake to crack and look a bit dry. Serve warm, with a dollop of ricotta or whipped cream on the side. Enjoy!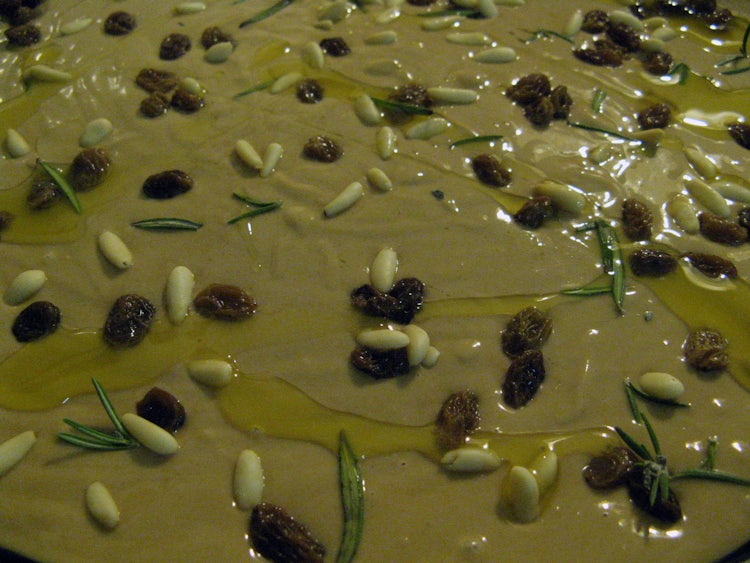 Variations:
You will most definitely taste castagnaccio in some restaurants in Tuscany that will have adapted the basic recipe. You can play around with how tall you make the cake and also how crunchy or soft you make it. For example, in Livorno, castagnaccio is twice as tall and thus more doughy. Remember, there is nothing in the recipe to make it rise so it won't, it will stay flat.
Some will add orange zest, sugar, play with a mix of water and milk, add or substitute the pine nuts for walnuts or plump up the raisins in Vinsanto to make their own tastier version of castagnaccio. I suggest you try it whenever you get a chance when you're in Tuscany since you'll never have the same, even within the same area. If you like one in particular, ask the chef what he did to make it taste so good! Discover what you like so that when you make it at home, you can play around and make the recipe your own.
Are you excited to taste some of these traditional Tuscan dishes? Which ones? Let me know what you try out and what you love (or not)!